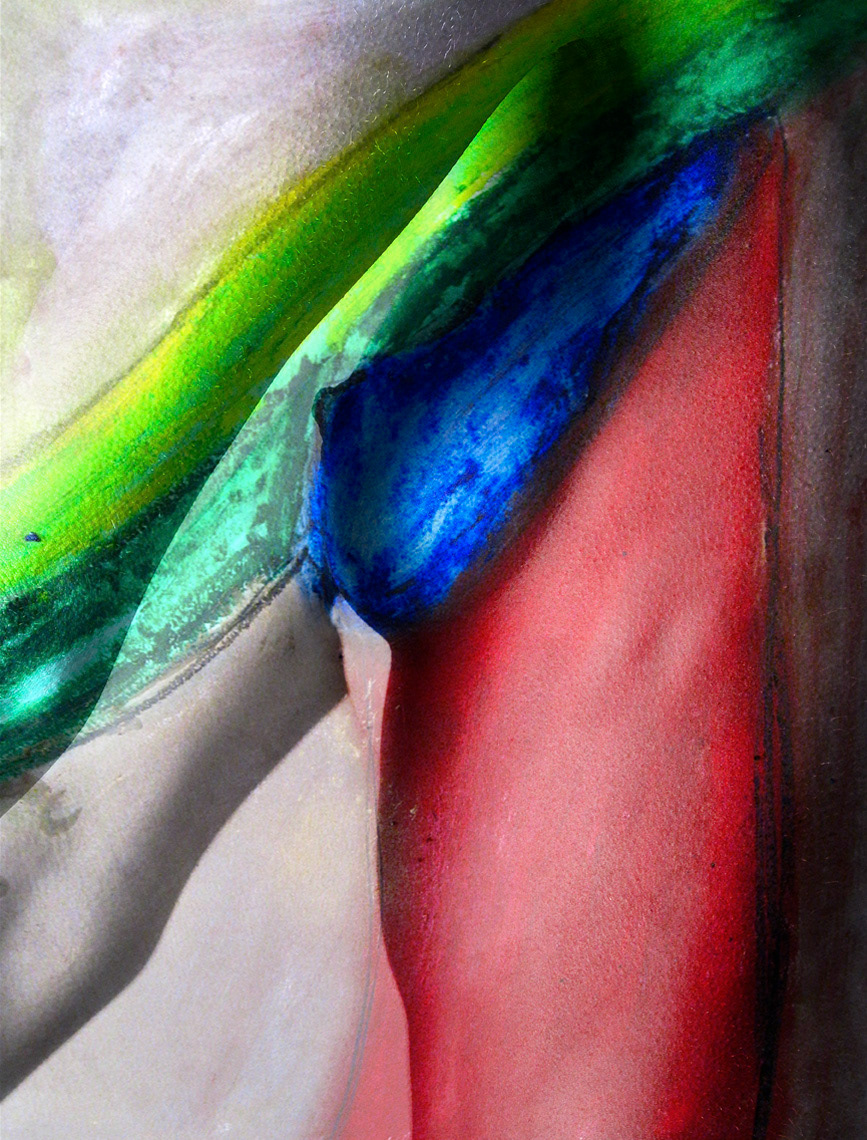 Nacktheit ist ein Paradoxon, sietreibt uns an und hemmt uns, sie steckt voller Gewissheiten und Irrtümer, sie gibt uns Halt und entlässt uns in Leere. Nackt sind wir alle von Geburt an – in jeder Hinsicht. Nacktheit kann aber nicht behoben werden allein mit Kleidung, denn "nackt" ist nicht zwingend "kleidungslos".
Kleidung ist die künstliche Hülle des Menschen. Die Gemeinschafts-Werke von Carsten Witte und Markus Ben Fuchs offenbaren dagegen die natürliche Hülle und zeigen, dass Persönlichkeit und Eigenständigkeit kleidungslos kleiden. Beide Künstler sind Meister der modernen Formfindung.
Die Portraits von Carsten Witte wirken durch Aura, sie lösen sich von Individuum und Fleisch und widmen sich vorrangig Form und Abstraktion. Mit dem Wechsel vom Foto zur Farbe verleiht Markus Ben Fuchs dem Stillleben Dynamik und Kraft, ohne das Geheimnisvolle und Rätselhafte preiszugeben.
Das Prinzip der Selbstentfaltung bleibt nicht auf das Modell begrenzt, es setzt sich beim Betrachter fort. Unsere eigenen Charaktere und Leidenschaften sind der Leitfaden für unsere Sicht der Dinge – auch und nicht zuletzt bei Akten. So sollte man sich Zeit nehmen für die Bilder, für das Betrachten und für das Nachdenken.
Prof.Dr. Friedrich Loock
(
Direktor des Instituts für
Kultur-und Medienmanagement der
Hochschulefür Musik und Theater
Hamburg)



Nudity is a paradox, it drives us and inhibit us, nudity isfull of certainties and errors, it gives us support and releases us intoemptiness. We are all naked from birth - in every aspect. Nudity can not besolved solely with clothing, as being nude does not mandatory means beingnaked.

Clothing is the artificial shell of mankind. The communityworks by Carsten Witte and Ben Markus Fuchs reveal, however, the naturalenvelope and show that personality and autonomy dress without clothes. Bothartists are masters of modern form-finding. The portraits of Carsten Witte actby Aura, they devote themselves to dissolve from the individual and flesh andprimarily focus on form and abstraction. With the change from photography tocolour painting gives Ben Markus Fuchs the still life dynamic power withoutrevealing the mystery and enigma.


The principle of self-expression is not limited to themodel, it continues by the audience. Our own characters and passions are theguide for our viewpoint- not least also and in nude arts. One should take timefor viewing and reflecting the images.


Prof. Dr. Friedrich Loock
(Directorof the Institute for Cultural and Media Management at the University of Musicand Theatr
e Hamburg)